Neglected Musicals
In association with Hayes Theatre Co
present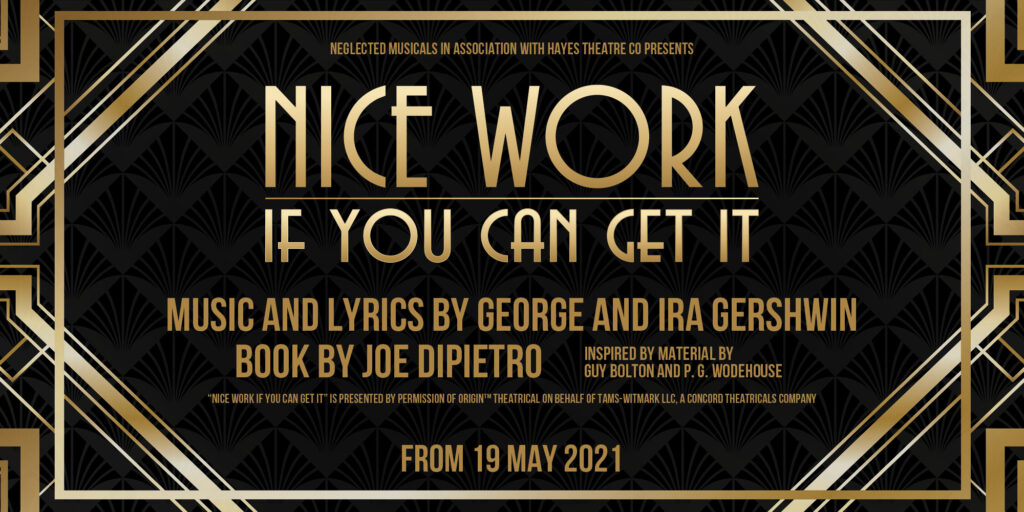 Music and Lyrics by George and Ira Gershwin
Book by Joe DiPietro
Inspired by Material by Guy Bolton and P. G. Wodehouse
"Nice Work If You Can Get It" is presented by permission of ORiGiN™ Theatrical
On behalf of Tams-Witmark LLC, A Concord Theatricals Company
Directed and Choreographed by Cameron Mitchell
Musical Director Damon Wade
Produced by Michelle Guthrie
Wednesday 19 May at 2pm & 7.30pm
Thursday 20 May at 7.30pm
Friday 21 May at 7.30pm
Saturday 22 May at 2pm and 7.30pm
New shows on sale
Sunday 23 May at 1pm and 6.30pm
at
Hayes Theatre Co
Cast Announced
* Georgina Hopson as Billie, Rob Mallett as Jimmy, Angelina Thomson as Eileen, Rob Johnson as Cookie, Margi De Ferranti as The Duchess, Kaeng Chan as Duke, Leah Howard as Chief Berry, Madison McKoy as Senator Max Green
with Jordan Tomljenovic, Suzanne Steele and more
*cast subject to change without notice
Celebrating its 11th year, Neglected Musicals will present Nice Work If You Can Get It this May. This presentation will be directed and choreographed by Cameron Mitchell (Catch Me If you Can, Applause).
Nice Work If You Can Get It is a new take on classic 1920s musical farce, the tale of Jimmy Winter, a wealthy and carefree playboy living the good life in the midst of Prohibition. Jimmy has an unfortunate habit of marrying chorus girls, until he's forced to marry a woman of substance – Eileen Evergreen, the finest interpreter of modern dance in the world. On the weekend of their nuptials, Jimmy meets Billie Bendix, a tough-as-nails bootlegger who has inadvertently stashed 400 cases of gin in Jimmy's basement. Knocked out by this one-of-a-kind woman, Jimmy must deal with his high strung fiancée and an assortment of bootleggers, prohibitionists, G-Men and chorus girls, as well as one very moralistic senator.
Nice Work If You Can Get It was a smash hit on Broadway in 2012 starring Kellie O'Hara and Matthew Broderick. It is based on the very early Gershwin Classics Oh Kay, Girl Crazy and others.
Featuring the songs Nice Work If You Can Get It, Let's Call The Whole Thing Off, Someone To Watch Over Me, Fascinating Rhythm, S' Wonderful, But Not for Me, Lady Be Good, I've Got a Crush on You and more.
Established in 2010, Neglected Musicals presents musical theatre that has never or rarely been seen in Australia, with scripts in hand, and piano accompaniment, after only a day's rehearsal.
*cast may change with out notice
Bookings: www.hayestheatre.com.au or phone 02 8065 7337
Photos by David Hooley
Gallery