Neglected Musicals in association with Hayes Theatre Co and Belvoir present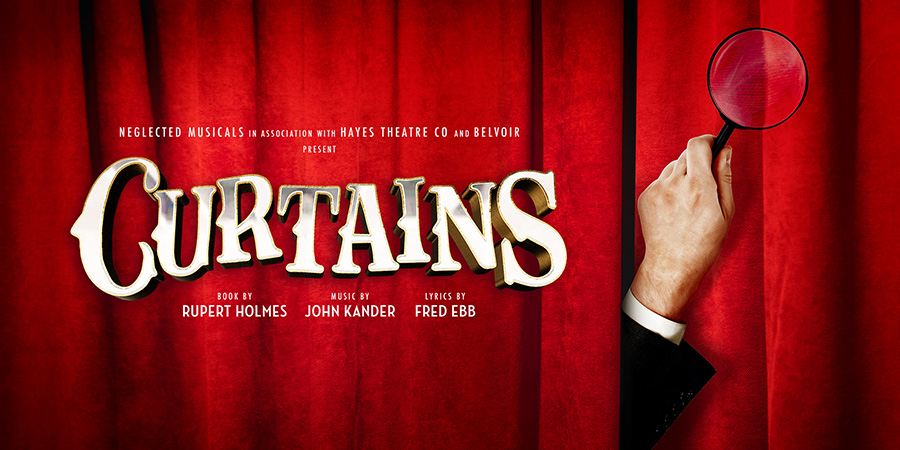 Directed by Richard Carroll
Choreographed by Cameron Mitchell
Produced by Michelle Guthrie
Book by Rupert Holmes
Music by John Kander
Lyrics by Fred Ebb
Original Book and Concept by Peter Stone
Additional Lyrics by John Kander and Rupert Holmes
Originally Produced on Broadway by Roger Berlind, Roger Horchow, Daryl Roth, Jane Bergère, Ted Hartley and Center Theatre Group. American Premiere Produced at The Ahmanson Theatre by Center Theatre Group, LA's Theatre Company.
To celebrate eleven years of Neglected Musicals presentations, the Kander and Ebb musical CURTAINS will be presented at Belvoir
Curtains is a musical mystery comedy based on the original book and concept of the same name, the musical is a send-up of backstage murder mystery plots, set in 1959 in Boston and follows the fallout when Jessica Cranshaw, the supremely untalented star of Robbin' Hood of the Old West is murdered during her opening night curtain call. It is up to Lt. Frank Cioffi, a police detective who moonlights as a musical theatre fan, to save the show, solve the case, and maybe even find love before the show reopens, without getting killed himself.
From the team that bought you CALAMITY JANE
PERFORMANCE TIMES
Thursday 9th September, 7:30pm
Friday 10th September, 7:30pm
Saturday 11th September, 2pm
Saturday 11th September, 7:30pm

BY ARRANGEMENT WIT ORiGiN™ THEATRICAL
ON BEHALF OF THEATRICAL RIGHTS WORLDWIDE, NEW YORK
Cast to be announced and subject to change without notice
ON BEHALF OF THEATRICAL RIGHTS WORLDWIDE, NEW YORK