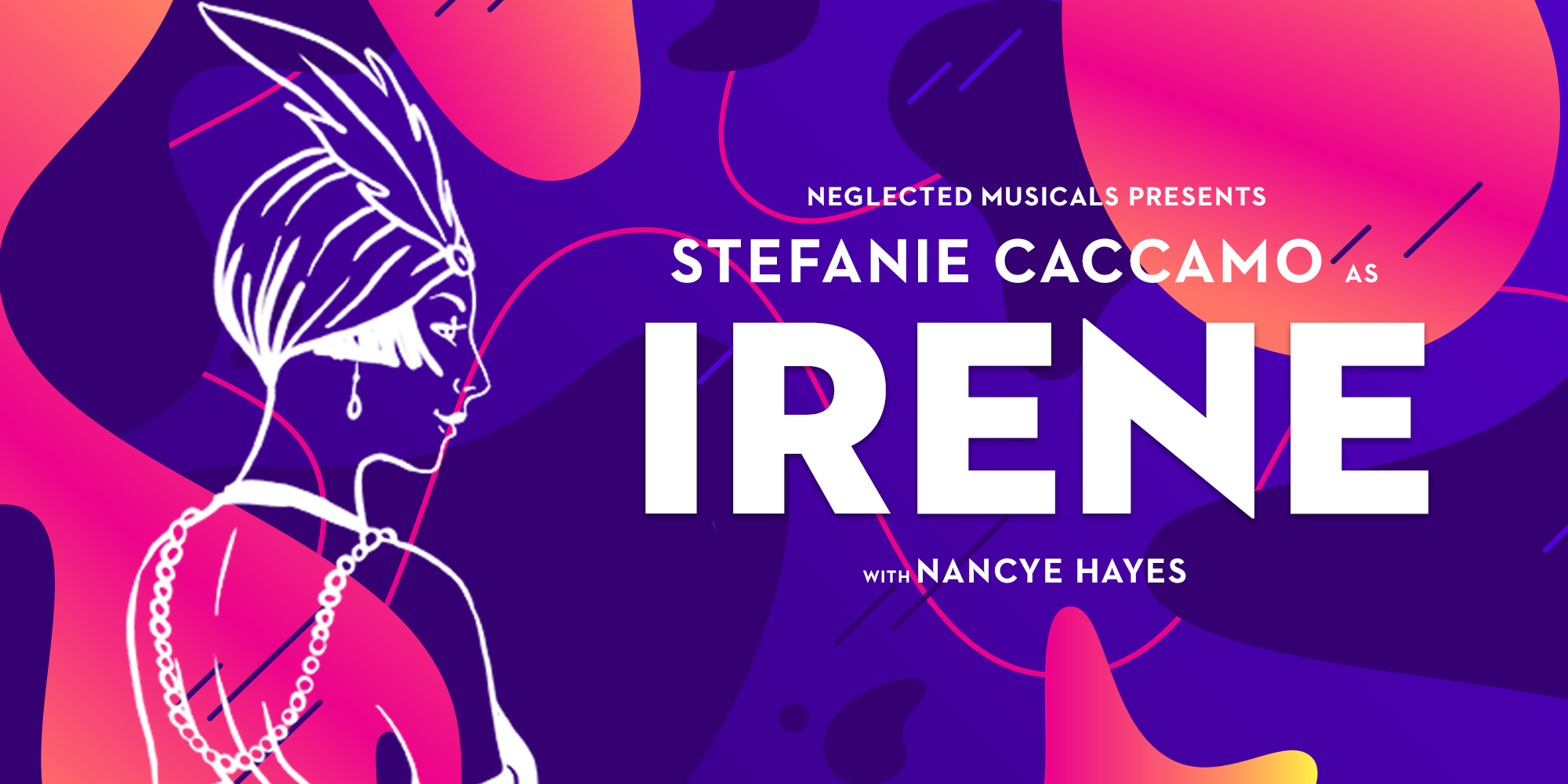 Neglected Musicals in association with Hayes Theatre Co presents
Stefanie Caccamo
as
IRENE
Book by Hugh Wheeler and Joseph Stein
From an Adaptation by Harry Rigby
Based on the Original Play by James Montgomery
Music by Harry Tierney
Lyrics by Joseph McCarthy
Additional Lyrics and Music by Charles Gaynor & Otis Clements
Original Production Supervised by Gower Champion
Produced for Broadway by
Harry Rigby, Albert W. Selden & Jerome Minskoff
With Nancye Hayes
Directed by Shaun Rennie
Choreographer Cameron Mitchell
Musical Director Chris King
Producer Michelle Guthrie
Starring
Steffanie Caccamo as Irene O'Dare, Nancye Hayes as Mrs O'Dare
Rob Mallett as Donald, Ashleigh Rubenach as Jane,
Mandy Bishop as Mrs Marshal
Ayesha Madon as Helen, Rob Johnson as Ozzie and Clarkson,
Garry Scale as Madam Lucy, with Kimberly Hodgson,
Rose Shannon Duhigg, Conor Neylon and Axel Duffy.
Wednesday 8 January at 2pm & 7.30pm
Thursday 9 January at 7.30pm
Friday 10 January at 7.30pm
Saturday 11 January at 2pm and 7.30pm
Celebrating its 10th year, Neglected Musicals will present IRENE starring Stefanie Caccamo and Nancye Hayes. This presentation will be directed by Shaun Rennie. IRENE was a smash hit on Broadway in 1919; it was revived in the 1970s starring Debbie Reynolds and, in Australia, Julie Anthony.
Featuring the songs I'm Always Chasing Rainbows, Alice Blue Gown and You Made Me Love You, IRENE focuses on an immigrant shop assistant, Irene O'Dare, who is introduced to Long Island's high society when she is hired by one of its leading grande dames to help redecorate her home.
Stefanie Caccamo returns to Neglected Musicals after her lead turn as Eve Harrington in Applause and having recently starred as The Girl in ONCE and Chrissy in HAIR. Nancye Hayes who played Jane in the JC Williamsons production in 1975 will play Mrs O'Dare
Also in the cast is Rob Mallett (Aladdin) as Donald, Ashleigh Rubenach (Muriel's Wedding, Cry Baby) as Jane, Ayesha Madon (Fan Girls) as Helen, Rob Johnson (Calamity Jane, Spamalot) as Clarkson, Garry Scale (Tilbury Legend) as Madam Lucy, Christian Charisou (Cry Baby) as Ozzie with Rose Shannon Duhigg, Conor Neylon, Axel Duffy and Mandy Bishop as Mrs Marshal
"Irene" is presented by permission of ORiGiN™ Theatrical On behalf of Tams-Witmark Music Library, Inc.
Photos by David Hooley
Gallery