Neglected Musicals in association with Hayes Theatre Co presents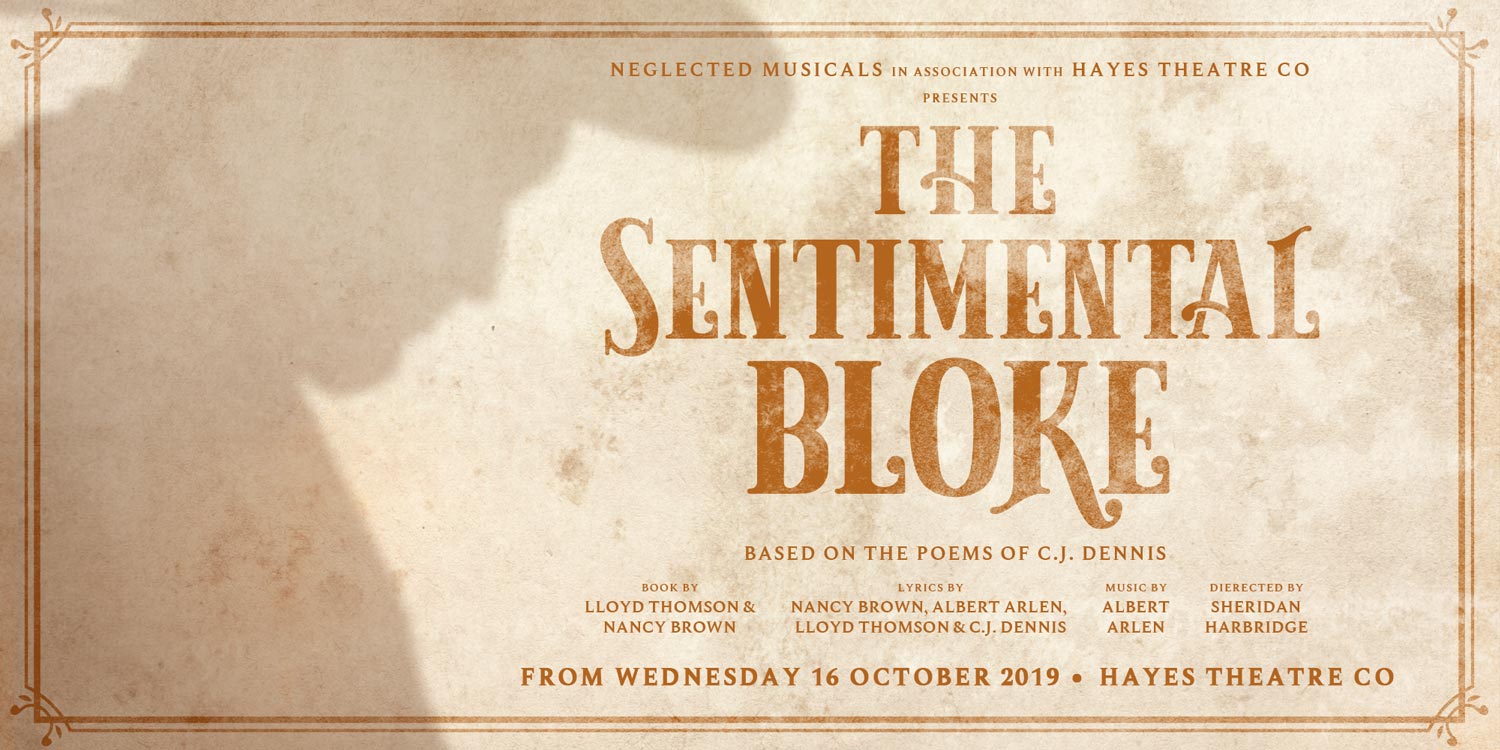 BASED ON THE POEMS OF C.J. DENNIS
BOOK BY LLOYD THOMSON AND NANCY BROWN
LYRICS BY NANCY BROWN, ALBERT ARLEN, LLOYD THOMSON & C.J. DENNIS
MUSIC BY ALBERT ARLEN 
Directed by Sheridan Harbridge
Musical Director Damon Wade
Producer Michelle Guthrie
Wednesday 16 October  at 2pm & 7.30pm
Thursday 17 October  at 7.30pm
Friday 18 October at 7.30pm
Saturday 19 October at 2pm and 7.30pm

The Sentimental Bloke is a 1961 Australian musical by Albert Arlen, Nancy Brown and Lloyd Thomson based on Songs of a Sentimental Bloke by C.J. Dennis. It is one of the most successful Australian musicals of the 20th century.
J.C Williamson's produced the musical professionally in Melbourne. The original six-week season at Melbourne's Comedy Theatre (from 4 November 1961), directed by John Young, was later extended to five months. The roles of The Bloke, Doreen and Rose of Spadger's Lane were played by Edwin Ride and Gloria Dawn respectively. Through 1962, the production toured to Adelaide (Tivoli Theatre), Brisbane (Her Majesty's Theatre), Sydney (Theatre Royal) and Auckland, New Zealand (His Majesty's Theatre).
The Sentimental Bloke was revived professionally by Penrith's Q Theatre Company in April–May 1983. A subsequent professional production was staged by the Parramatta Cultural Centre (now called Riverside Theatres) and Q Theatre Company in March–April 1988.
Cast TBC