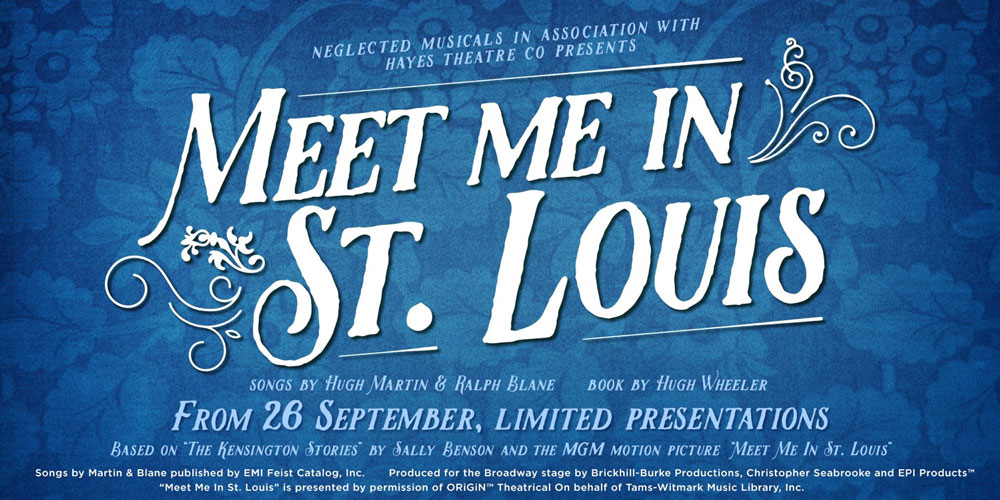 Music and Lyrics Hugh Martin and Ralph Blame
Book by Hugh Wheeler
Meet Me in St. Louis is a 1989 musical based on the 1944 film of the same title, about a family living in St. Louis, Missouri, on the eve of the 1904 World's Fair.
Meet Me In St Louis had seven presentations at Hayes Theatre Co from 26 September 2018
Directed by Richard Carroll
Musical Director Damon Wade
Choreographer Cameron Mitchell
Design Elements Krystal Giddings
Production Assistant Gayda de Mesa
Producer Michelle Guthrie 
Based on the heart-warming MGM film, MEET ME IN ST. LOUIS is a rare treasure in the musical theatre; a wholesome and delightful portrait of a turn-of-the-century American family. It is the summer of 1903, and the Smith family eagerly anticipates the opening of the 1904 World's Fair.
Kerrie Anne Greenland as Ester Smith
Stefanie Caccamo as Agnes Smith
Kaeng Chan as Warren Sheffield
Beth Daly as Katie
Jacqui Dark as Anna Smith
Charlotte Devenport as Lucile Ballard and Eve
Jonathan Mill as Grandpa Prohater
Lauren McKenna as Rose Smith
Bardiya McKinnon as John Truit
Cameron Rhodes as Alonso Smith
Aaron Tsindos as Lon Smith
Jessica Vickers as Tootie Smith
Gallery
Videos