Neglected Musicals in association with Hayes Theatre Co presents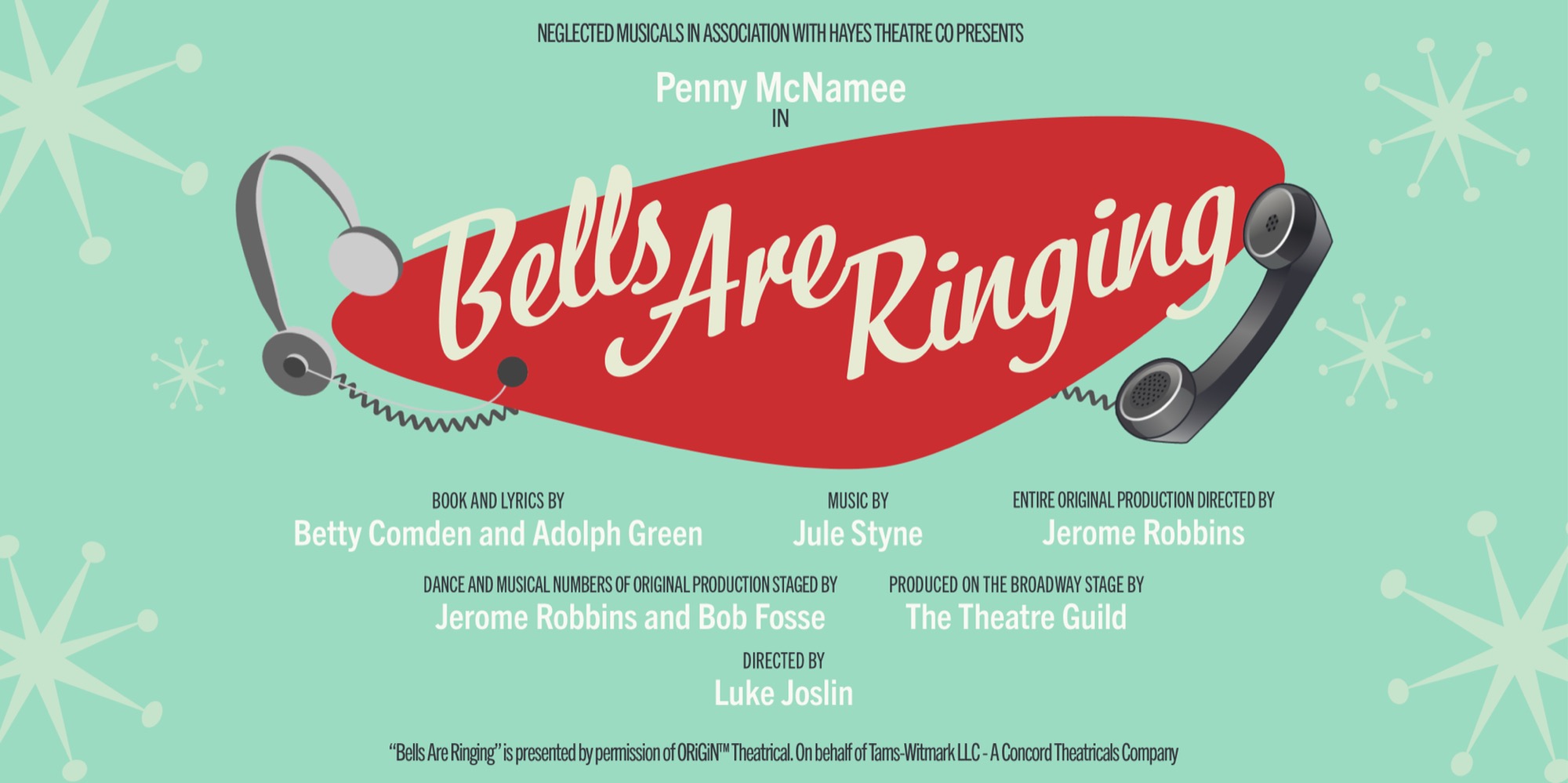 Book and Lyrics by Betty Comden and Adolph Green
Music by Jule Styne
Entire Original Production Directed by Jerome Robbins
Dance and Musical Numbers of Original Production
Staged by Jerome Robbins and Bob Fosse
Produced on the Broadway Stage by The Theatre Guild
"Bells Are Ringing" is presented by permission of ORiGiN™ Theatrical
On behalf of Tams-Witmark LLC – A Concord Theatricals Company
Wednesday 7 September at 2pm & 7.30pm
Thursday 8 September at 7.30pm
Friday 9 September at 7.30pm
Saturday 10 September at 2pm and 7.30pm
Sunday 11 September at 1pm
at
Hayes Theatre Co
Directed by Luke Joslin
Musical Director Su Hee Cho
Choreographer Matthew Jensen
Design Angela Meany
Starring
Penny McNamee

With

Andrew Cutcliffe, Wayne Scott Kermond, Octavia Barron Martin, Ava Madon, Drew Livingston, Vincent Huynh, Dean Vince, Emily Cascarino, Joel Houwen, James MacAlpine, Chloe Malek, Siena Elchaar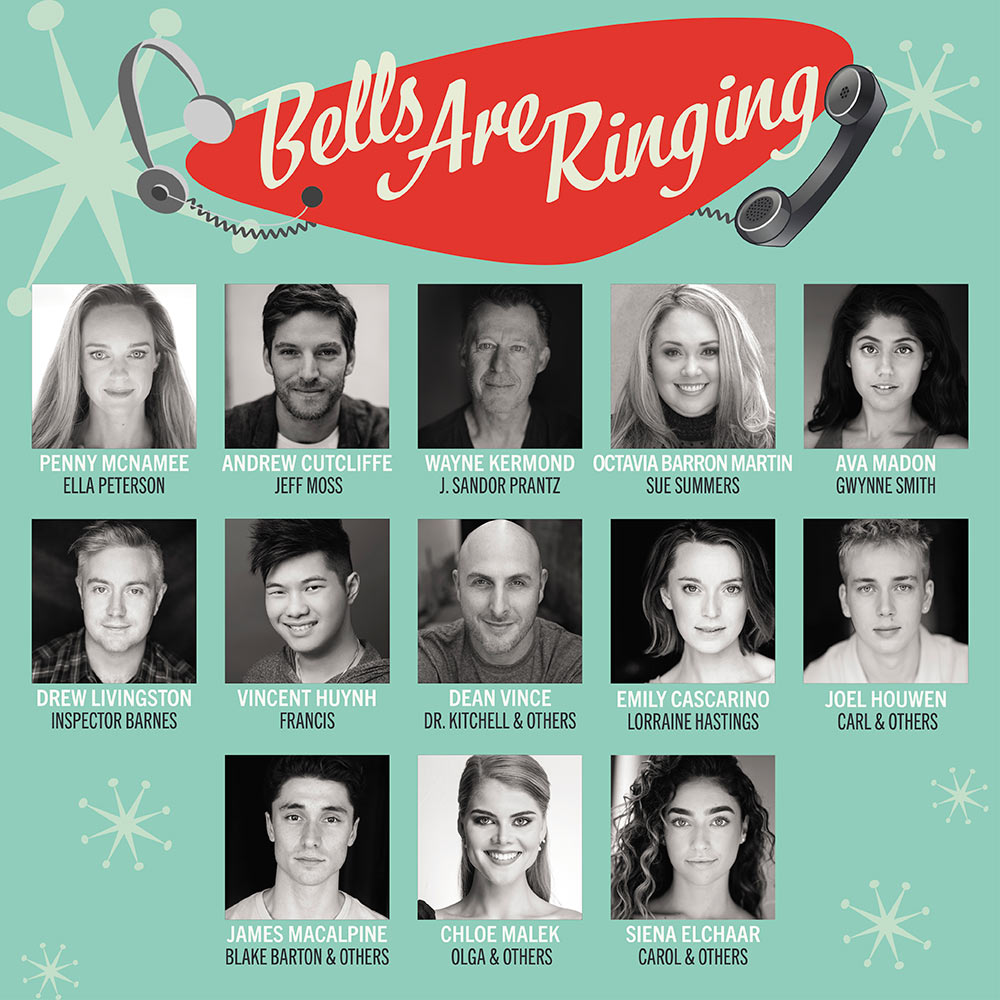 Starring Penny McNamee this beloved musical comedy boasts a score by Jule Styne, with book and lyrics by Betty Comden and Adolph Green
The classic score features such songs as Just in Time and The Party's Over
"The unique and thrilling experience that comes with performing a Neglected Musical, is three-fold for me," said Penny McNamee star of Bells Are Ringing. "Firstly, the challenge of learning and staging a show in just a day, the thrill of performing that show in front of a live audience who are invested in the process, and finally the joy of rediscovering and presenting a forgotten, but cherished musical!"
In Bells Are Ringing, the lonely Ella (Penny McNamee) works at an answering service.  As she assumes different identities for each of her callers, she also becomes entangled in their lives. The original production opened at the Shubert Theatre in Nov 1956 and played 924 performances. The musical was directed by Jerome Robbins; dance numbers were staged by Robbins and Bob Fosse. The show won Tony Awards for its stars Judy Holliday and Sydney Chaplin. The 1960 movie musical stared Judy Holliday and Dean Martin.
"This 1950's feel good musical asks the age-old question which we are still asking today- can women have it all?!!," said director Luke Joslin.  "Written by Betty Comden with music by Jules Styne, Bells are Ringing is the perfect tonic for now."
Neglected Musicals presents a chosen musical in full with scripts in hand, accompanied by a piano after only one days rehearsal.
Penny McNamee is one of Australia's most versatile actresses, forging an impressive career in television, film and musical theatre.   From 2015-2021, Penny starred as Tori Morgan in Home and Away, a role which saw her nominated for a Logie Award.  Penny originated the role of Nessarose in the Australian premier of WICKED and played Jennifer Gabriel in The Witches of Eastwick.
*Cast subject to change without notice
There have been 23 previous Neglected Musicals presentations: NO WAY TO TREAT A LADY, GIRL CRAZY, SEE SAW, MY FAVORITE YEAR, SHE LOVES ME, NICK AND NORA, ON THE 20TH CENTURY,
LUCKY STIFF, VARIATIONS, SUPERMAN, DEAR WORLD, THE GOODBYE GIRL, BABY THE MUSICAL, CALAMITY JANE, MAME, ME & MY GIRL, BIG RIVER, MEET ME IN ST LOUIS, APPLAUSE, THE SENTIMENTAL BLOKE, IRENE, NICE WORK IF YOU CAN GET IT and BRIGADOON.
Bookings: www.hayestheatre.com.au or phone 02 8065 7337