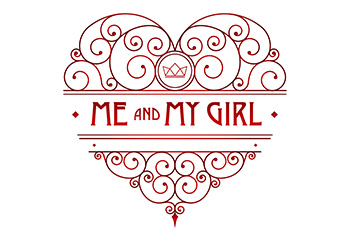 Book and Lyrics by L. Arthur Rose and Douglas Furber
Music by Noel Gay
Book revised by Stephen Fry
Contribution to revisions by Mike Ockrent
Originally produced at the Adelphi Theatre London by Richard Armitage
Directed by Trevor Ashley
Producer Michelle Guthrie
Musical Director Craig Renshaw
Choreographer Trent Kidd
Starring*
Tim Maddren & Kirby Burgess
With
Tina Bursill, Nathan Carter, Dan Downing, Erin James, Nat Jobe,  James Lee, Marney McQueen, Jess Voivenel
And
Simon Burke
Neglected Musicals will present ME & MY GIRL at Hayes Theatre Co from Wednesday 25 October .  Directed by Trevor Ashley, this West End and Broadway hit of the 1980's will be the first time the musical has been performed in Australia for over 20 years  Winner of two Olivier Wards and three Tony's, ME & MY GIRL is set the late 1930s and tells the story of an unapologetically unrefined cockney gentleman named Bill Snibson, who learns that he is the 14th heir to the Earl of Hareford. Featuring the popular musical numbers Lambeth Walk, Leaning on Lamppost and Me & My Girl.
"I adored Me and My Girl when I saw it in Sydney in the mid-nineties and it's a thrill to re-introduce this delightful comedy to new audiences, and those who want a trip down memory lane alike. It's got a wonderful score, fabulous gags, and we've assembled a top rate cast. A bright and breezy night at the theatre, it will have you in stitches and tapping your toes in equal measure," said director Trevor Ashley.
Established in 2010, Neglected Musicals presents musical theatre that has never or rarely been seen in Australia.  Presented with scripts in hand, and with piano accompaniment after only a day's rehearsal.
Neglected Musicals is not for profit, where the participants are volunteers.  All proceeds from ticket sales fund the next Neglected Musical.
Directed by Trevor Ashley
Producer Michelle Guthrie
Musical Director Craig Renshaw
Choreographer Trent Kidd
Tickets $47
Bookings via Hayes Theatre Co website
or by calling 02 8065 7337
*cast is subject to change without notice
Videos