Neglected Musicals in association with Hayes Theatre Co and Belvoir present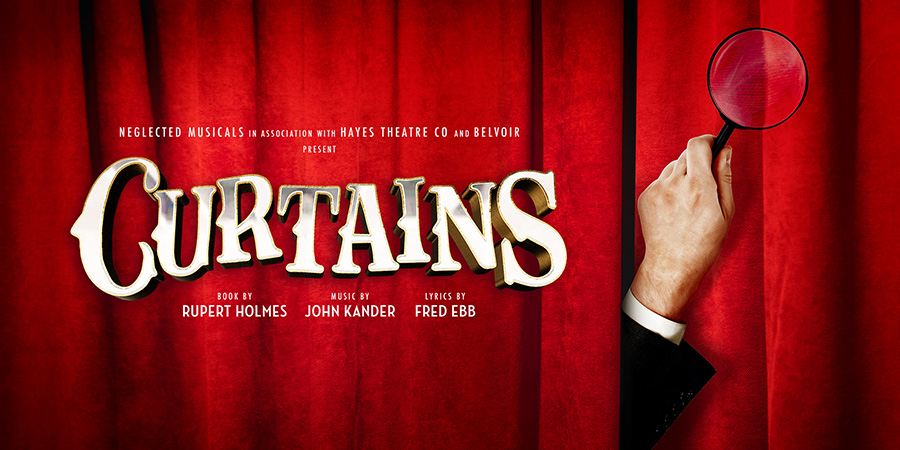 Directed by Richard Carroll
Produced by Michelle Guthrie
Book by Rupert Holmes
Music by John Kander
Lyrics by Fred Ebb
Original Book and Concept by Peter Stone
Additional Lyrics by John Kander and Rupert Holmes
Originally Produced on Broadway by Roger Berlind, Roger Horchow, Daryl Roth, Jane Bergère, Ted Hartley and Center Theatre Group. American Premiere Produced at The Ahmanson Theatre by Center Theatre Group, LA's Theatre Company.
Tuesday 12 May at 8pm
Wednesday 13 May at 8pm
ONLY
Starring David Campbell other cast announced soon
To celebrate ten years of Neglected Musicals presentations, the Kander and Ebb musical CURTAINS will be presented at Belvoir 
Curtains is a musical mystery comedy based on the original book and concept of the same name, the musical is a send-up of backstage murder mystery plots, set in 1959 in Boston and follows the fallout when Jessica Cranshaw, the supremely untalented star of Robbin' Hood of the Old West is murdered during her opening night curtain call. It is up to Lt. Frank Cioffi, a police detective who moonlights as a musical theatre fan, to save the show, solve the case, and maybe even find love before the show reopens, without getting killed himself.
From the team that bought you CALAMITY JANE
Established in 2010, Neglected Musicals presents musical theatre that has never or rarely been seen in Australia.  Presented with scripts in hand, and piano accompaniment after only a day's rehearsal. 
Previous Neglected Musicals presentations: NO WAY TO TREAT A LADY, GIRL CRAZY, SEE SAW, MY FAVORITE YEAR, SHE LOVES ME, NICK AND NORA, ON THE 20TH CENTURY, LUCKY STIFF, VARIATIONS, SUPERMAN, DEAR WORLD, THE GOODBYE GIRL BABY THE MUSICAL, CALAMITY JANE, MAME , ME & MY GIRL, BIG RIVER, MEET ME IN ST LOUIS, APPLAUSE, THE SENTIMENTAL BLOKE. And IRENE.
BY ARRANGEMENT WIT  ORiGiN™ THEATRICAL
ON BEHALF OF THEATRICAL RIGHTS WORLDWIDE, NEW YORK